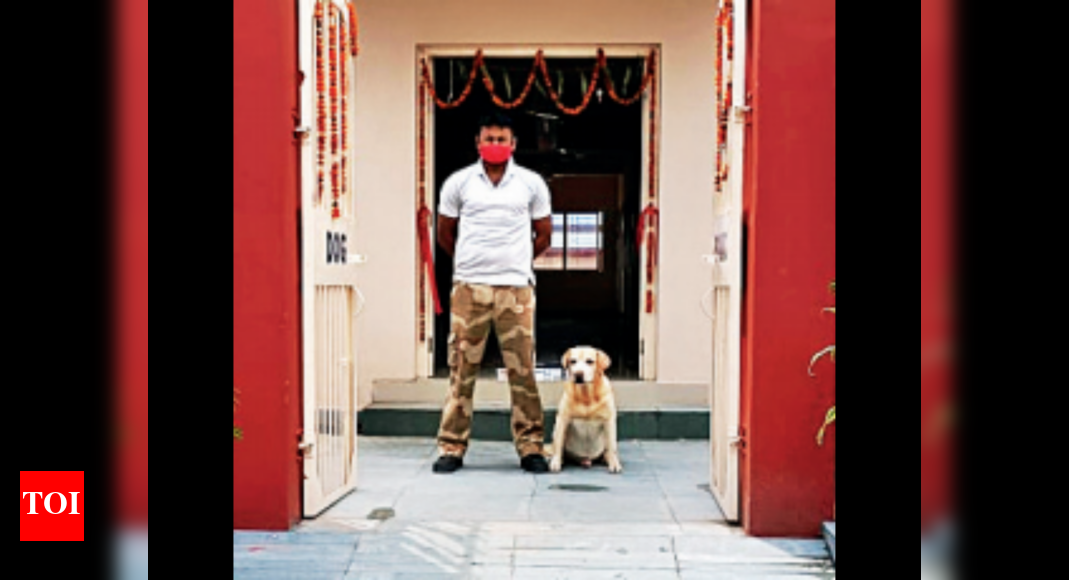 Calcutta: Each dog has its day, the canine team of the CISF moves in spacious and air-conditioned quarters with swimming pool | Calcutta News
[ad_1]
KOLKATA: It's not a dog's life for Ruby, Rambo, Bruno, Magic and four of their "colleagues" as they move from a common room with damp walls to a luxurious air-conditioned house with private spaces and a swimming pool.
The sniffer dogs, which are a vital part of the Central Industrial Security Force (CISF) bomb detection team at Kolkata airport, have been moved from the old kennel to the airport premises in smarter living quarters on the outside. Spread over 4,000 square feet, the new facilities at CISF Camp in Narayanpur feature a 10ft × 8ft room for each dog, complete with sliding windows, tiled floors and an air conditioner.
Dogs have plenty of room to relax or run
Two masters are delegated to take care of each of the dogs. Their typical routine involves physical training and show jumping outside of their airport duty. If they're not tired from the day's activities, they can even enjoy a swim in the pool and a private massage session in the new setup.
The upgrading of the cramped and damp shelter near Gate 7 of the airport in Bankra which was flooded during the rain is important. "The move was important as the old shelter will be demolished to make way for the ongoing runway and taxiway extension," said an official at Kolkata airport.
The sniffer dog team has two breeds: the Cocker Spaniel and the Labrador Retriever. There are currently eight members: Ruby (10), Rambo (10), Caesar (10), Magic (10), Bruno (9), Bujo (6), Jack (2) and Rex (2). Retriever Ruby, a Labrador, is also the only female on the team. With 10 years of service, three of them are already in overtime, while another is due to retire in two months. To replace them, four dogs are being trained at a Ranchi training center and will join the team and live here upon completion of their training. The team included another full-time member, Astro, who died of kidney disease last year.
"The dogs have a service tenure of 10 years, during which their salary of Rs 11,000 per month is spent on their maintenance. Some active dogs are entitled to an extension of up to one year until the arrival of their replacements. After retirement, the dogs are left to private owners, "said the official.
Dogs have been essential members of an airport's security ecosystem for years. The Aviation Security Group annually trains several dogs for a range of jobs, including explosives detection, security drills, and contraband prevention. Dog teams are trained to identify not only explosives, but also blood, drugs, money, firearms, wildlife, animal parts like ivory and rhino horns, and items from smuggling.
[ad_2]