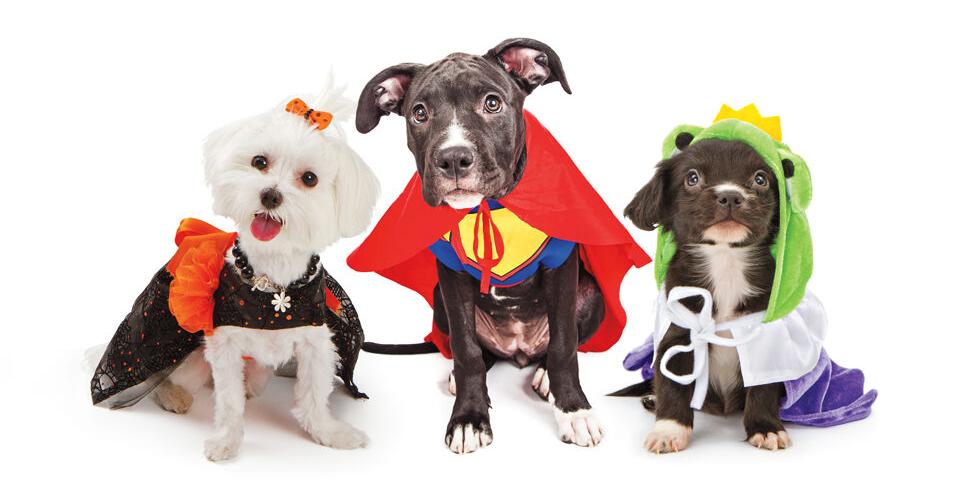 Canin Couture Costume for Halloween | People
From sweaters for keeping warm in the colder months to booties that protect tender paws from hot sidewalks in the warmer months, dog clothes have exploded into the mainstream. But while it's no longer weird to see a trotting dog in a winter rain jacket, canine Halloween costumes haven't yet gotten the fashion moment they deserve.
"When I started, a lot more people were buying cute stuff," Tina Wong, owner of Molly's Pup-Purr-Ee in Danville, says of opening her store 26 years ago. "Now it's much more functional."
That doesn't mean man's best friend has been left out of haunted events entirely. "More and more, people like to just use separate pieces. They buy bat wings or a little cape and create their own look," says Bobby Wise, owner of George, with stores East Bay in Berkeley and San Ramón.
For dogs that aren't used to wearing anything other than their fur, this is a great way to get them into the spooky spirit. George and Molly's Pup-Purr-Ee have plenty of Halloween-themed items for pet owners who want to give their pup a little festive flair without going all-out.
Small dogs may have an easier time finding a complete look, as Wong notes that most complete costumes are for small dogs. "There are plenty of big dogs who love to dress up!" Wong adds.
"One of the reasons we make [items] because for a specific costume to work perfectly, it has to fit perfectly," says Wise.
Dog owners willing to go the extra mile can turn to Etsy, as the site is home to many shops that create handmade custom dog costumes. For example, Burbank-based TKCCozyPawz makes custom costumes that will transform your pet, big or small, into a skunk, tarantula, or even a lobster.
Whatever type of costume you choose, put it on your dog several times before the big day and reward him with lots of treats while he wears it so that he has positive associations with his attire. This will also help ensure that the costume is comfortable and does not impede their movement.
And be sure to check for small attachments that could easily be pulled out, chewed on, and swallowed. This isn't the kind of Halloween trick you're aiming for with your dog's clothes!