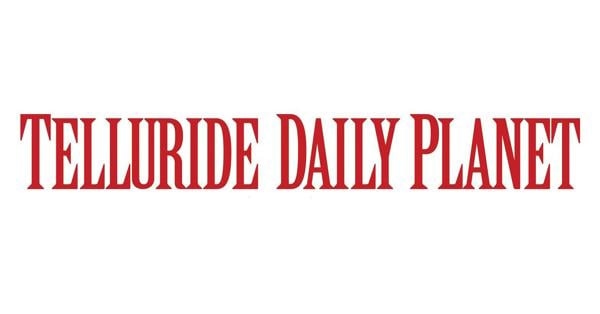 COP SHOP | News | telluridenews.com
SAN MIGUEL SHERIFF'S OFFICE
JUNE 27
UBER OFFICER: A deputy drove a hitchhiker to the county line.
GET OFF MY LAWN: A landlord gave intruding mountain bikers a thumbs up.
WHAT A BIT: An Apple Watch with a gold strap lost in Crystal Lake near Ophir is now at the cop shop.
GOLD MEDAL SLALOM: A motorist zigzagging down the freeway was cited for bogus plates, no insurance and no registration.
JUNE 28
TUNNEL IN: A sleepy man in the tunnel under Highway 145 at Society Turn had a rude awakening.
ARREST WARRANT: A man arrested for failing to appear was also intoxicated and therefore in violation of a liquor prohibition order.
JUNE 29
GANKED: Two bicycles and a suitcase full of clothes were stolen in the Ames area.
JUNE 29
JUST OUT FOR A HOLLER: A man was reported screaming in the Fitz Subdivision of Norwood, but the reporting party did not believe he was in distress or in need of assistance.
JUNE 30TH
IMAGINE: A woman with dogs called to complain about another woman who confronted her about having dogs in Lawson Hill, a subdivision that prohibits dogs.
JULY, 1ST
THE GRASS IS REALLY GREENER: A cow was happily munching on grass outside the pasture she had managed to escape from. He was restored to his life of captivity.
DRONE ALONE: A drone lost in Ophir is currently in the town hall of Ophir.
JULY 2ND
HIGH COUNTRY A-HOLE: An aggressive driver on Bridal Veil Road received a citation for reckless driving.
TELLURIDE MARSHAL'S DEPARTMENT
JUNE 30TH
DID YOU LOOK ON HER NIGHT STAND: Officers took a report of a lost necklace.
FUN POLICE: Neighbors thought the music was too loud at a house party.
TOO MUCH: Officers assisted emergency medical personnel with an overly drunk subject.
JULY, 1ST
NOT THE USUAL SUSPECTS: A noise complaint has been received in connection with an ongoing dispute with neighbours.
JULY 2ND
DOWNTOWN LIVING: A noise complaint outside a local watering hole was resolved by the time officers arrived.
DISORDER: A disorderly subject was arrested and presumably became more orderly in prison.
JULY 3
EMS ASSIST: agents lent a hand to a disoriented person.
GLAD TO BE STRAY: A stray dog ​​has been returned to its owner.
DENY HOUSE: A house party has been closed.
4TH JULY
WHO BITES: One animal bite has been reported.
RESOLUTION: A noisy argument was resolved by the time officers arrived.
THE USUAL SUSPECTS: Life in the commercial core does not meet some expectations of a downtown resident for vibrant activities, entertainment events and people generally having a good time. So. The local Gendarmerie returned, yet again, to an address they knew to deal with a serious case of twisted panties, faulty reasoning and confusion over the difference between city life and, say, life in a more pastoral. Although the elk are bellowing, there could be a problem.
NOTHING SAY AMERICA: Like blowing things up. Fireworks, individual freedoms, environmental protection. 'Murica.
A PLACE FOR YOUR STUFF: There is a wallet and a purse at the police store.
JULY THE 5TH
CAMP NOT, SQUIRE: Car camper was educated and moved.
DON'T SLEEP HERE, TRAVELER: A vagrant has been told he can't sleep on public property.
JULY 6
A FRIEND, REALLY: An overintoxicated individual was released into the care of a sober friend.
ASSAULT: Officers arrested a subject for assault.
JULY 7
BUSHED: Officers checked an individual napping in the bushes.
THIS IS YOUR STOP: An intoxicated subject has been expelled from the gondola. We hope it was at a gondola station, or at least not too far from the ground.
RELEASED: A lost dog has been found.
JULY 8
PIPING DOWN NOW: Following a disturbing call, an individual agreed to use his inner voice.
GRAB THIS BUTTON: And push it down. A venue agreed to refuse the music following a complaint.
DISORDER: A subject was arrested for disorderly conduct and obstruction of transportation following a gondola crash.
JULY 9TH
CARPET NOT WELCOME: The vagabonds were packing their bags when officers arrived.
IT'S ALL OK: An alarm at a local marijuana dispensary was unfounded.
DOOMMATES: The arguing roommates have been separated for the night.
JULY 10
BEAR WITH ME: Much like an RV, a bear has been encouraged to be somewhere else, which in this case is the woods.
11 JULY
CHOW DOWN: Burnt food has triggered a fire alarm.