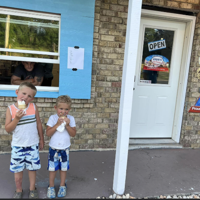 Frosty Dog brings ice cream and hot dogs galore to Main Street in Hedgesville | Journal-news
HEDGESVILLE – Frosty Dog, Hedgesville has had a successful first month of opening at Hedgesville, a new ice cream shop proudly serving Hershey's ice cream and hot dogs.
Partners Lee Earehart, Chris Parker and Jake Aikens are all from the area and have enjoyed working within the community to put a smile on people's faces, and their pets, if they decide to bring them in for a treat.
"People brought cats, dogs, chickens and rabbits," Earehart said. "Well-behaved pets are welcome."
At the location there is a corn hole, music and places to sit and enjoy the menu items outside. Along with people and pets welcome, Frosty Dog also has a Pet Board, a bulletin board displayed with Polaroid photos of pets that have visited since the business opened.
"There were so many frosty dogs that we ran out of film!" the Facebook post said last week.
There will be more movies available, so the team said the community should continue to bring their pets for a cup of ice cream and get featured on the chart that has only grown since it opened.
Earehart, Parker and Aikens still work full-time, in addition to running the shop with the team, but they said they're having fun doing it.
Dylan Tryon, the man who dances in Facebook videos and social media expert for Frosty Dog, has enjoyed seeing the company grow over the past month.
"We try to have fun with people and be good to the community. There's not much here," he said.
In line with the desire for more in Hedgesville, the lack of a place to buy ice cream was one of the driving factors for the store opening.
"The community has been great. They go out and hang out, and they've been fabulous," Earehart said. "We're grateful to be here. They're grateful to us for being here, it's a two-way street.
Parker said the team hopes to stay in Hedgesville for a long time.
Currently serving a wide menu of hot dog options, as well as sundaes, ice cream and shakes, the partners expressed hope to expand by adding more ice cream flavors, as well as possibly opening a seating area possibly in the future.
Parker said for those who want to start their own business, remember that quitting smoking is easy, but getting started is the challenge.
"Take that leap of faith. It can be scary, but just do it," he said.
Frosty Dog, at 303 W. Main Street in Hedgesville, is open Monday through Wednesday from 5 p.m. to 9 p.m., Thursday from 11 a.m. to 9 p.m., Friday and Saturday from 11 a.m. to 10 p.m., and Sunday from 11 a.m. to 9 p.m.