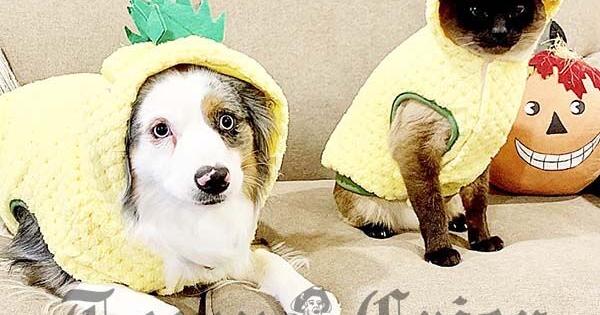 Halloween went to dogs (and cats too) | New
With the Halloween holiday fast approaching, many front doors are adorned with spooky Halloween decor, ready and waiting for tricks or treats to arrive.
The pumpkins have been carved and the treat buckets are ready to be distributed.
The final Halloween detail is putting the finishing touches on every man, woman, child, and pet costume for the big scare night.
Yes, it's true, Halloween costumes aren't just for kids anymore; in fact, they're not even just for humans anymore! Over the past 10-15 years, dressing up your pet for Halloween has become a growing trend with as many costume options for cats and dogs as there are for kids and adults.
The cause of "Halloween on the hunt" is debatable, with many theories on the table.
Some say it's the "Millennials" who are to blame. Millennials have fewer children than previous generations and therefore have more time and money to focus on their pets.
Others claim it's the product of social media, because nothing goes viral faster than a cute Corgi in a pirate costume.
But maybe it's just out of love and devotion to our four-legged friends that we want to include them in fun activities the whole family can enjoy.
Whatever the reason, pet costumes are nothing new. Dog costumes, in particular, date back to BC.
Archaeologists have discovered in the tomb of King Cuo of Zhogshan, who was king of China from 327 to 309 BC. AD, two large remains of dogs wearing jeweled collars.
King Louis XI of France (who reigned from 1423 to 1483) dressed his greyhounds in red velvet collars with pearls and rubies. Louis' successor, Charles VIII, had dresses made for his dogs.
Queen Victoria's journals mention a scarlet jacket and blue trousers worn by her dog. This is also the time when a canine couture shop was all the rage in Paris.
In the early 1900s, dogs and cats in clothes were popular subjects for postcards, magazines, and children's books.
The iconic image of "Dogs Playing Poker" was first painted in 1903.
From 1929 to 1931, MGM made "all barkie" dog comedy shorts featuring dogs doing human things in clothes or costumes.
Even modern animal cartoon characters like Mickey Mouse, Arthur, and Peppa Pig all wear clothes.
Dressing up our favorite animal friends might not be a new idea, but recently it has become a profitable idea.
According to the 2021-2022 National Pet Ownership Survey, 70% of U.S. households own a pet, and of those pet owners, 20% plan to dress their pet in a costume for Halloween.
In fact, the American consumer is expected to spend $700 million on pet Halloween costumes this year.
Pet costumes that seem to be particularly hot for 2022 are Star Wars characters, Hocus Pocus characters, and shark costumes, but it's the tried-and-true traditional costumes that still hold the top five spots as most popular pet costumes.
The witch costume remains stable at fifth place. Perfect for your favorite cat or dog, they're sure to bewitch you wearing a witch hat and matching cape.
Number four on the list is a bumblebee costume, complete with yellow and black stripes and pom-pom antennae.
The third most popular costume is a vampire bat. This costume looks especially scary on any black cats or dogs.
The second most popular pet costume, especially for dogs, is the hot dog costume, and the number one pet costume (for the 5th year in a row) is the irresistible pumpkin costume. Jack-O-Lantern.
Whatever costume you choose, keep in mind that it should be comfortable and non-binding for your pet.
You should also be aware that not all pets (especially cats) will be as enthusiastic about wearing a costume as you are. Try putting the costume on your pet several times before Halloween, so they can get used to wearing it.
Remember, it's for fun, so if your pet isn't having fun wearing a costume, take it off.
If you want to stay in the holiday spirit, consider a Halloween-themed bandana or collar for the animal that prefers to dress up.
When taking your dog for a ride or treating him with the family, think safety first.
Make sure costumes don't block your pet's vision, and walk with a flashlight or reflective tape so you and your pet are easy to spot by oncoming cars.
Also, be sure to limit your pet to pet treats only. Candy can be harmful or even deadly to pets, so be sure to keep it out of the candy bucket. Keep a few dog treats in your pocket to keep Fido happy and engaged until you get home.
If you're not planning on doing tricks or treats, but still want to have some fun with your pet in Halloween costume, many veterinary practices and pet stores have photo or Halloween costume contests. online animals you can participate in, or just post a photo on social media. for your family and friends to enjoy.
Remember not to put too much effort into celebrating your pet's Halloween. They will just enjoy being with you and the family on this fun day. Also, you need to save your strength to take the perfect photo of your pet for next month's Christmas card.