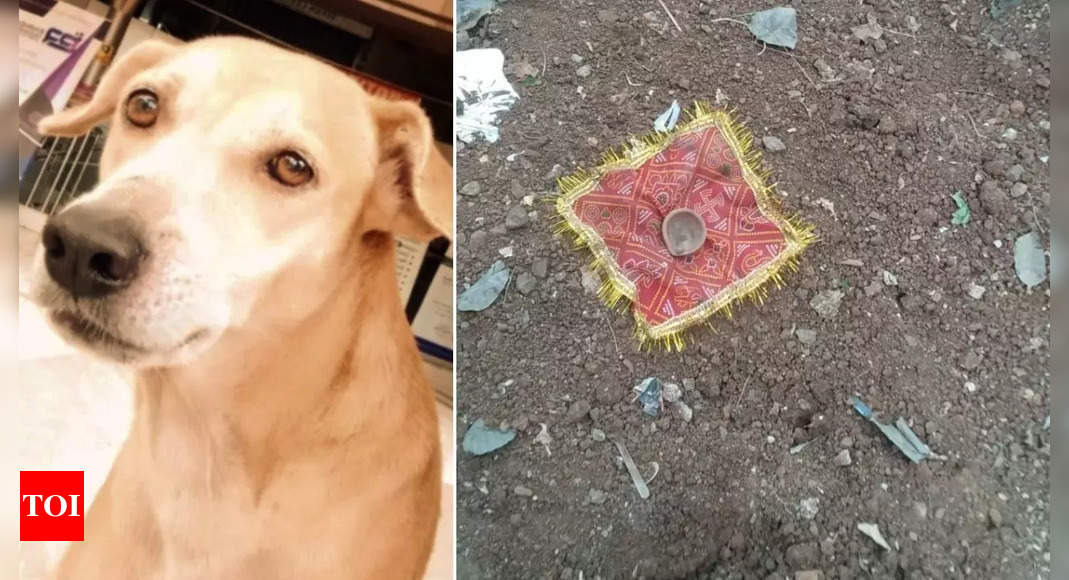 Mumbai: Loyal dog Bandu follows guards inside burning Dreams Mall, dies | Bombay News
MUMBAI: The latest fire at Bhandup-based Dreams Mall.
The site led to the tragic death of a local man
dog
affectionately called Bandu, who had loyally followed the other mall guards inside the burning building.
Bandu died due to smoke inhalation, and his body was found early Saturday; he was buried in the mall complex itself.
Several shop owners in the mall paid heartfelt tributes to Bandu, who has lived on the premises of the mall for more than six years.
Mall store owner Lata Amin told TOI: 'Bandu was last seen inside the mall when the fire broke out on Friday evening. He had followed the security personnel, because Bandu considered himself part of the security group, to guard the mall. In this chaotic situation, Bandu became disoriented due to the smoke. I found his body Saturday morning in the atrium under the stairs. We are all extremely saddened by his passing.
She added that many traders, including herself, feed Bandu and another local dog named Balu daily at the mall. "Bandu was a very intelligent and sensitive dog. Even during last year's mall fire here at the nursing home, Bandu had screamed loudly because he knew there were people caught in the fire. Bandu and his furry friend Balu even stopped eating properly for a few days after this tragic fire," Amin said and added that her staff Rahul Raj and Chandraprakash Maurya helped her locate Bandu after the latest fire.
The Marathi word "Bandu" means a good and honest person – which Bandu was indeed, according to people who knew him at the mall. "When the mall had closed earlier, Bandu used to alarm the other security guards if he sensed intruders trying to break in to steal. His sense of duty and loyalty was incredible," Amin said.
Animal
Activist Dr Nandini Kulkarni, Honorary Animal Welfare Officer affiliated with Animal Welfare Law Enforcement, said: "I didn't know Bandu personally, but he was certainly a good dog. Normally, animals try to run away from a burning place. However, Bandu voluntarily went inside the mall in order to try to help his human friends. I think a commemorative plaque in honor of Bandu should be put up in Bhandup."
"It shows that animals too have feelings, just like humans, and want to bond with us. Therefore, I urge all housing companies not to run away from local animals and allow them to reside in the locals," Kulkarni said.
Another store owner at the mall made the poignant remark, "Although we suffered business losses when the mall closed, as well as the fire, our biggest loss is the loss of Bandu in the recent fire. Business can be rebuilt, but how do we get our Bandu back?'