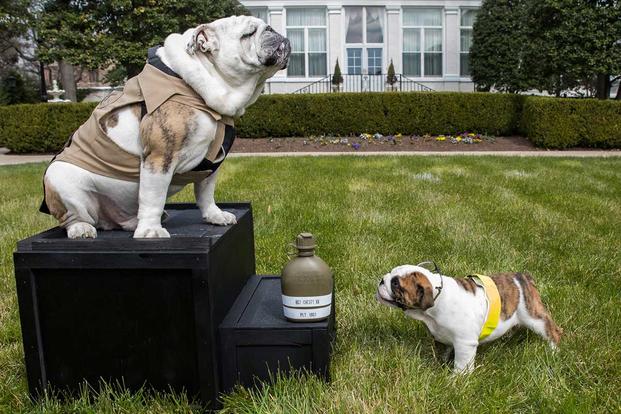 New Chesty, same dog face: Marines announce canine changing of the guard
The Marine Corps announced its newest recruit with more fanfare than employed for the average growl, likely because the recruit is a dog.
The Corps announced on Thursday that it was getting a new bulldog pup to take on the role of "Chesty" after the current one leaves this summer.
"Recruit Chesty XVI recently began training to replace retiring Lance Cpl. Chesty XV," the Marines wrote in a press release.
Read more : Lawmakers want to rename Fort Benning for new Medal of Honor recipient Alwyn Cashe
During World War I, the 1st Battalion, 6th Marine Regiment earned the nickname "Teufel Hunden", or Devil's Dogs. According to tradition and the official 1/6th website, the Marines were ordered to take a hill during the Battle of Belleau Wood. Fearing mustard gas, they donned gas masks. As they made their way up the hill, they started sweating from the heat, foaming at their mouths, and their eyes were bloodshot. The hill was so steep that it required the Marines to climb on all fours. Seeing this unusual assault, the Germans began to shout that they were being attacked by "hounds of hell", according to legend.
Since then, the English bulldog has been the mascot of the Marine Corps. Chesty the dog came later.
First came the dogs' namesake, the human Chesty – Lt. Gen. Lewis "Chesty" Puller. The most decorated Marine in history, he received five Navy Crosses, a US Army Distinguished Service Cross and the Silver Star for 37 years of service and several wars.
The Chesty bulldog was named in his honor when the first unofficial mascot donned the eagle, globe and anchor in July 1957. Since then, 15 have carried the nickname.
16th Chesty "will remain a 'recruit' until he completes his training and achieves the rank of private," the gunnery sergeant said. John Walker, the master instructor at Marine Barracks Washington, said in a press release. No photo of the last Chesty had been released Thursday afternoon.
In the meantime, the Marines say Chesty XV will use his three years of experience to "mentor the young English Bulldog and show him the ropes" of being the unofficial Marine Corps mascot, according to the press release.
The service notes that the current mascot has marched in Friday night parades, participated in community events and attended countless ceremonies during this time.
"When he retired, [Chesty XV] will be adopted by his former caretaker," the press release read.
— Konstantin Toropin can be contacted at [email protected] Follow him on Twitter @ktoropin.
Related: A very serious look at Chesty the Marine Corps mascot
Show full article
© Copyright 2022 Military.com. All rights reserved. This material may not be published, broadcast, rewritten or redistributed.