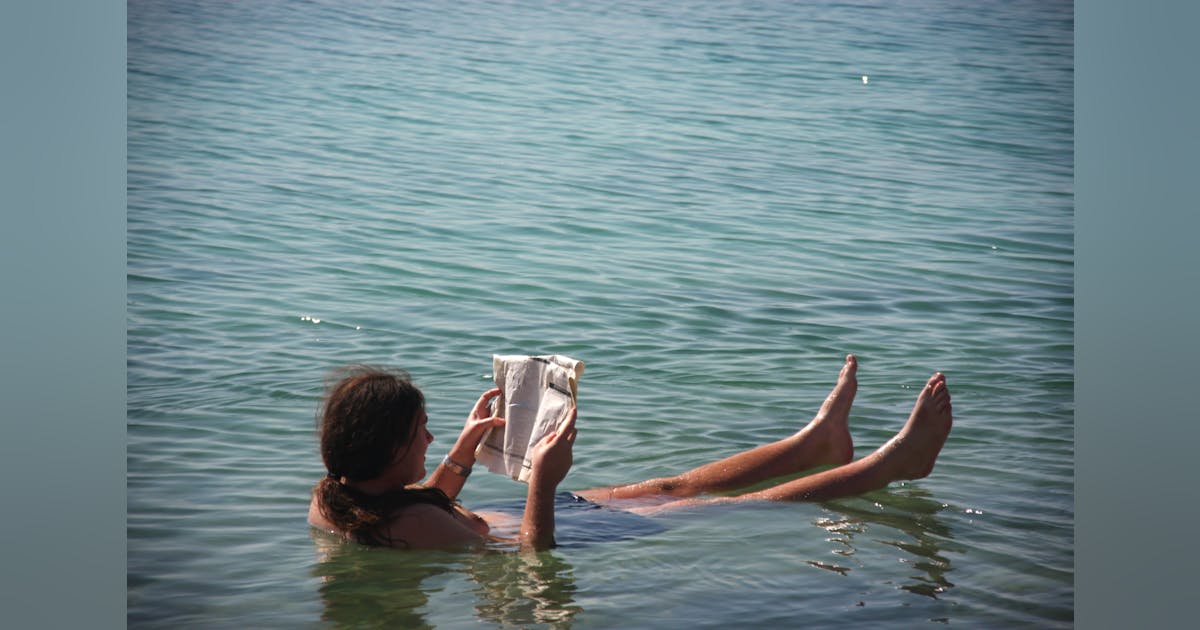 Safety Culture, Business Acumen and Man's Best Friend: What We're Reading This Week
We rushed, we rushed, we rushed last week like The Road Runner, but not as fast.
There are lists, finished products, half-finished projects and projects to start. But it's safe to say that the root cause is an over-eagerness to tackle projects and unrealistic expectations about our time, productivity, and energy levels.
What do you do when there's so much to do? Do not do anything! We decided to escape for a few hours on the shores of Lake Erie. There is something so calming about watching the waves and seeing the water as far as the eye can see. We can't wait to be in the water like the photo above…when the water is much, much warmer.
It seems to be the key to finding that elusive balance, or failing that, getting as much sleep as you can. Somehow, things always seem more manageable after you've rested. And if all else fails, drink some coffee and take a nap. Then get to work!
A look back
As we mentioned earlier, we are based in Cleveland, Ohio. In its heyday, our beautiful city once had the highest concentrations of millionaires in the country, and one of the city's main thoroughfares was aptly named Millionaires' Row.
We are fans of yesteryear, so we were delighted to see a profile on a once-thriving clothing manufacturer in local media. The Richman brothers made high-quality menswear, and author Tom Matowitz says getting a suit from the company was like a rite of passage for young men. But what might interest you more is that their reputation extended beyond their clothes to how they treated their employees.
The company created a culture of safety and respect – a stark contrast to the Triangle Shirtwaist factory, which tragically caught fire about a decade before the Richman Brothers factory opened. Here are some examples of this culture:
The management granted interest-free loans.
Employees received two weeks of paid vacation, and the company added a third week in 1949.
Employees worked a 36-hour work week – at the time, 48-hour work weeks were common – and pensions after 15 years of service. They were also offered paid maternity leave.
The Richman brothers could have stood at the front door and greeted each of the 2,000 employees by name as they entered. We don't know many executives who can do that today. Unfortunately, the company ceased to exist in 1992 and the factory has been vacant for years.
Learn more about the company and view historical images here.
Beware of MBAs
We saw a new headline on Bloomberg that caught our attention: "If your boss has an MBA, you could end up making less money."
US executives with a business degree are more likely to cut their salaries. They are also not likely to generate increased profits or sales, according to a recent article by the National Bureau of Economic Research.
When companies hire executives with MBAs, salaries have fallen by 6% in five years, while labor's share of profits has fallen by 5 percentage points.
Authors and economists Daron Acemoglu, Daniel le Marie and Alex He suggest that business schools could be a factor at play, as similar results have been observed in Denmark when people with MBAs are called upon to lead. "We interpret these results as capturing the impact of management practices and values ​​imparted by business schools and business degrees," they write.
In fact, the authors think that business degrees could be bad for business. "Our evidence suggests that CEOs are not more productive: Companies that appoint CEOs do not follow differential trends and do not benefit from increased sales, productivity, investment, or job growth after joining."
The full document is available here.
Sit down, stay, good human
We love our four-legged friends. We don't know how we would have handled the pandemic without them. This seems to be the case for many people, as shelters have been emptied as COVID-19 has made its way through the country.
Dogs have always played an important role in our lives, and this role has increased during the pandemic: "For many people, dogs were the only warm body around – therapist, companion and entertainment system rolled into one. "
So it's understandable that some people don't want to leave their pets and go back to the office. We imagine that many pets love the constant attention, treats, and availability for walks that working from home affords their owners.
It was always a day we knew would come, but one that grew hazier as the pandemic dragged on. Now, after a few years of closeness, the split takes some getting used to for both parties, writes The New York Times.
One interviewee said leaving her pandemic puppy was reminiscent of when she left her baby to go to work. There are ways to minimize separation anxiety; obedience school and puppy daycare can help. But as with humans, it might be more difficult to adapt. After all, there's a reason dogs are called man's best friend.
Read the story and see adorable dog photos here.