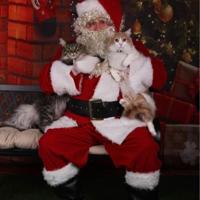 Santa Paws Pet Pictures for December | Local News
Families and their pets are encouraged to prepare for vacation photos in December through Santa Paws Pet Pictures at the Hardin County Animal Shelter.
The seasonal photo event with Santa Claus will take place December 4-5 and December 11-12 at 167 Towne Drive in Elizabethtown. The location is halfway between Pet Supplies Plus and Kroger.
Autumn O'Neal of the Friends of the Hardin County Animal Shelter said people can come anytime during the designated time. It's first come, first served.
All types of animals are welcome. In the past, O'Neal has said pets have ranged from dogs and cats to snakes and even a skunk.
Photos can be of a single pet, multiple pets, and even pets and family members. O'Neal said they have a seasonal backdrop with a fireplace and Christmas tree.
If people have an animal that could be reactive, O'Neal asked the owner to let the organizers know before bringing the animal inside. They will have space available for them to wait for their session if they wish.
A variety of photo packages will be available, including a digital file, starting at $ 12. Photos will be taken by Gina Clear of Gina Clear Photography.
O'Neal said they would work with families and pets to get the perfect shot.
"We still have the image. We work with the animal. We absolutely do not bring in and out. We still understand the picture, "she said.
All proceeds will go to Friends of the Hardin County Animal Shelter to help area animals.
"It's so much fun. If you have a pet, bring it or dress your friend's and bring it. We'll take a photo of whatever you bring," she said.
For more information, visit the Friends of Hardin County Animal Shelter Facebook page.
Mary Alford can be reached at 270-505-1417 or [email protected]