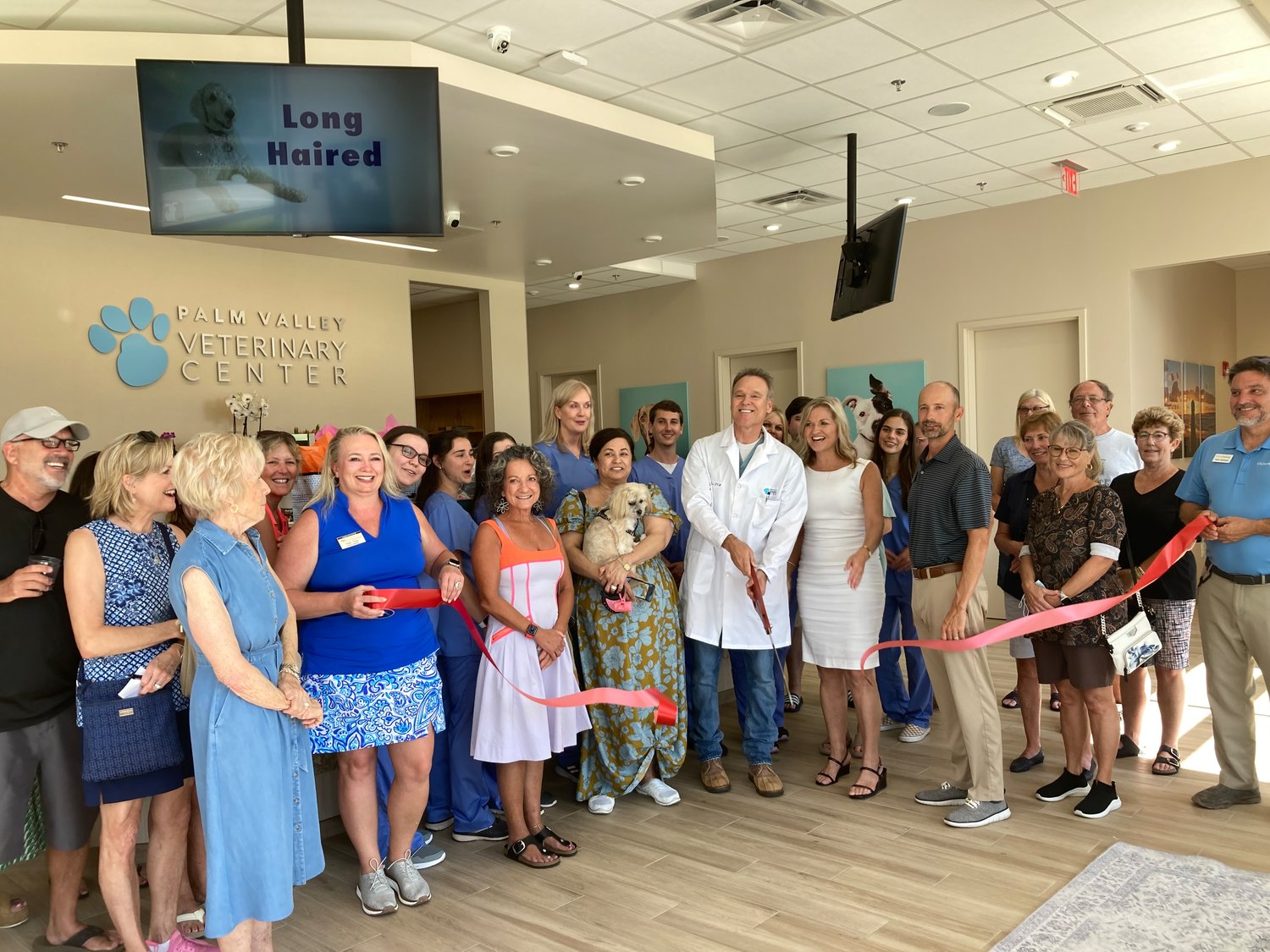 State-of-the-art facility offers the latest options for pets
By Anthony Richards
The Palm Valley Veterinary Center and Dr. Louis Mack want to bring the best care to pets in the Ponte Vedra area and a big step has been taken to achieve this with the official opening of the business and the inauguration ceremony with the St. Johns County Chamber of Commerce May 31.
One of the main ways Mack hopes to achieve its goal of providing the best service is by offering some of the latest state-of-the-art technology and procedures in the facility.
"It was originally a bank that was vacant for a while," Mack said. "I kept getting a bigger and bigger project because I wanted to keep adding better features and more services."
Recent renovations included adding approximately 6,000 square feet to the original structure.
"I wanted to add whatever I could to meet the needs of this area, as many hospitals in this area are in strip centers or smaller in nature," Mack said. "It makes it difficult to provide everything I would like to provide."
The decision to develop the location was not made in haste, as it took years to get there.
"It all started in 2015, when I moved here from the Ocala area after being originally from San Diego, California," Mack said. "Before that, I had sold my practice and worked for a company as a medical director. I saw a lot of hospitals that had what I thought were flaws.
After getting an idea of ​​the needs that were out there, he decided to get back into business and have his own practice because he knew that was the best way to make a difference.
Some eight years later, and his dream center is now a reality that he is now able to share with the audience he intended.
"It's exciting, but it's just the beginning," Mack said with a smile on his face.
Making sure to maximize the technology available to vets these days has always been at the top of his list.
These advanced features include a veterinary hyperbaric chamber, which Mack says is one of the few in the northeast Florida area.
"It's a device that basically allows you to bathe the dog in pressurized oxygen that forces it into the cells and the plasma, so the body is then hyper-oxygenated," Mack said. "It sounds rare, but oxygen is actually the source of healing and many of our body's functions. It can often treat chronic or acute conditions that otherwise wouldn't respond to traditional therapy."
The method has become more common among humans in recent years, especially among athletes, as it helps them in their recovery process.
Another aspect that Mack prides itself on is the ability to maintain a personal and comfortable atmosphere for every animal that enters the facility.
One of the main ways to limit animal stress levels is to have separate collection and holding areas for dogs and cats, and even try to group dogs with similar personality traits together.
"The goal is to provide a comfortable, low-stress environment, and hopefully we've achieved that," Mack said.
Where the use of the latest technology comes into play most is in terms of how efficiently information is relayed throughout the building, which can result in the diagnosis and treatment of a pet in time. timely.
"The whole hospital is powered by a full generator, which means that at any time during a power outage, we're never out of power, which is very important," Mack said.
Monitors are in almost every room and can easily provide information that they can then share and educate owners about their pets.
"When people can see the importance you place on doing your best for animals, I think that means a lot," Mack said.
The center is open from 7 a.m. to 6 p.m. on Mondays, Wednesdays and Fridays and from 7 a.m. to 7 p.m. on Tuesdays and Thursdays. It is open from 8 a.m. to 1 p.m. on Saturday and closed on Sunday.