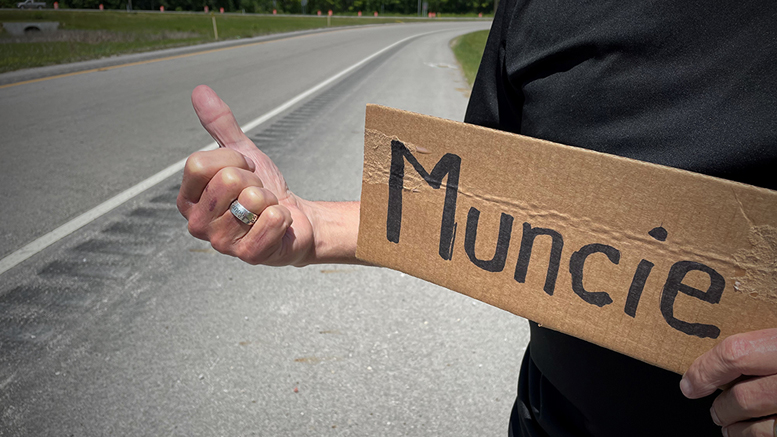 Take a walk? Forget it – Muncie Journal
[ad_1]
By John Carlson—
You don't see a lot of people hitchhiking anymore.
That's a good thing these days, when crime, cruelty and general madness seem to sprout here like mushrooms on a damp forest floor.
In the 60s and 70s, however, a lot of people hitchhiked. They came from all ages, but I'd bet most of these hitchhikers were kids, out on the road and looking for whatever the kids on the road were hoping to find. Adventure. Self-enlightenment. Sex, drugs and rock'n'roll. I would also bet that a kid doesn't have to be on the road long to get tough, losing his innocence by meeting people he should never have met.
Me? Yes, I have been on the road three times.
Fortunately, each time it was just for a day. It wasn't long enough for me to become a callous and obnoxious jerk, although I seem to have succeeded in it anyway.
The first time around, my Taylor University buddy Charlie Friddell and I took an elevator up to Indy's Raceway Park to watch USAC stock cars driven by legends like AJ Foyt and Lloyd Ruby race its course. On his way home, Charlie scrawled "Taylor U" on a sign, holding it aloft on the ramp to I-465. The idea was that good drivers familiar with our school knew about serial killers, and they were unlikely to go anywhere where they made you go to the chapel three times a week. After ten minutes, a friendly family picked us up and led us to the front door of our dormitory.
Hitchhiking turned out to be a snap!
The following September came my second hitchhiking experience. After working my ass in a steamy foundry all summer, I spent part of my salary to complete the training I had started years before on my private pilot license. Unable to schedule my FAA check ride before school started, I unplugged my thumb two weeks later on a Friday afternoon and drove home in Ohio via the I-69.
This trip was more in line with traditional hitchhiking. To be hungry. To be thirsty. Having to pee with hundreds of cars – no pun intended – passing by. Then there were the creepy wagons screaming, laughing, and knocking you over. Sure, I was a Christian sort of, but Taylor U or not Taylor U, a few times I retracted my hitchhiking thumb to extend a certain middle number and send the feeling back. In the end, however, I made it home safe and sound. The next day I passed my check and took my parents and sister on flights in the awesome old Cessna 150 I had rented.
Everything seemed good in my world.
Of course, then came Sunday. As the day progressed, it was time to hitchhike back to school. From the start, I could tell my dad was okay, checking his watch with a look that said, "I love you, son, but don't let the door hit you in the ass on your way out."
But Mom? It was a whole different matter.
Sticking out my bottom lip whenever I get the chance, I kept showing him the sad puppy look, until the moment they drove me to Cleveland Hopkin Airport and threw me put on an airliner bound for Fort Wayne. Returning to Taylor U in luxury, and intimately familiar with my school's strict alcohol-free policy, I swallowed every Sloe Gin Fizzes I could swallow during the forty-minute flight, celebrating a successful weekend.
The following year came my third hitchhiking experience.
This time, however, I was truly one of those American kids lost on the road. School seemed so Plastic, whatever that means. Also, my grades sucked and my girlfriend thought I was a loser. As I watched this long road disappearing into the horizon, something inside told me it was time to seek my destiny.
So I walked back to I-69, stuck my thumb out, and immediately was picked up by a friendly trucker heading north towards Chicago. Up there, my first stop would be to see my cousin Gary, a high school student enrolled in Wheaton Academy. Unfortunately, my trips slowed down considerably after the truck driver. Night had fallen and I was still twenty miles away when, freezing my chalupas, I called Gary. Lucky for me, even as a child, he displayed the negotiating skills he honed as a very successful business executive over the past few years and quickly requisitioned a car to pick me up.
That night I was lying in a sleeping bag on the floor in her dorm room. With the poignant lyrics of Simon and Garfunkel's song "America" ​​in my head, I looked at the ceiling and wondered about things like life and fate and where I would be next week, next month , next year. Unfortunately, at the same time, I started to think about how the next night at Taylor U's cafeteria they would serve meatloaf for dinner.
And I really dug meatloaf.
Another thing I thought about was how, unlike the vast majority of poor kids who would walk the freeways to find each other, I knew precisely where a blank check was on a bank account with fifty dollars deposited in it.
My wallet.
So, after spending the next morning strolling through Wheaton Academy with Gary, he requisitioned another car to take me to O'Hare Airport and catch a flight to Fort Wayne, gulping down more Sloe Gin Fizzes. all along.
Of course, back at Taylor U, it saddened me to realize that I was not an adventurous Jack Kerouac of "On The Road" fame. Instead, I had wasted a lot of time, the secrets of what my wandering life might have contained now lost to me forever.
On the other hand, it was a hell of a good meatloaf …
---
John's Weekly Columns are sponsored by Beasley & Gilkison, Muncie's trusted lawyers for over 120 years.
About Beasley & Gilkison
We listen, analyze your unique situation and prepare an action plan that best suits your needs. Contact one of our attorneys to schedule a consultation, or for more information call 765-289-0661 or visit our Facebook page or website at beasleylaw.com.
---
Former writer and longtime columnist for The Star Press in Muncie, Indiana, John Carlson is a storyteller with an unwavering appreciation for the wonderful people of East Central Indiana and the stories of their lives, no matter how funny, poignant, inspiring or all three. . John's columns appear on MuncieJournal.com every Friday.
[ad_2]