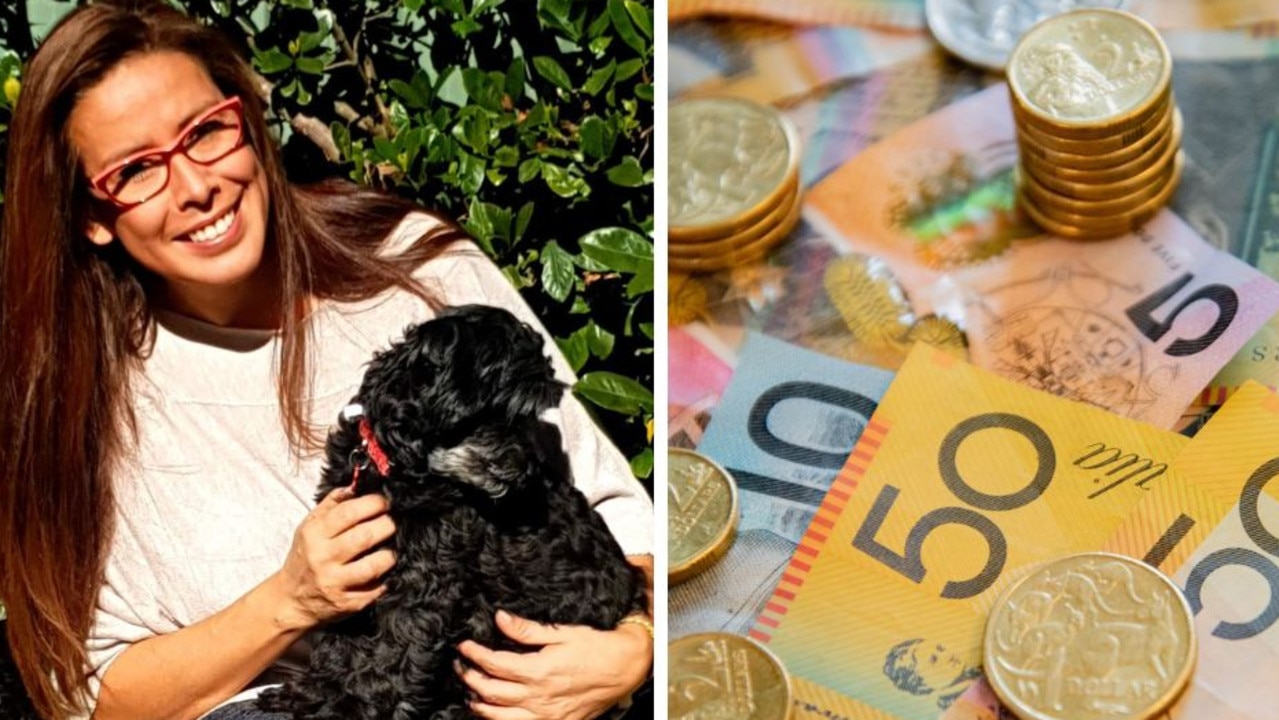 Warning over 'spike' in puppy scams causing Australians $4.2million nightmare
When Sandy Trujillo was scammed out of $1600 trying to buy a puppy for her lonely mother, she had no idea it would send her on a crusade to investigate and expose the scammers.
She had wanted to find a rescue dog for her mother, but at the height of Covid in May 2020 shelters had been emptied as desperate Australians searched for a furry friend.
Instead, she found an ad for a breeder selling toy poodles.
The NSW resident asked the obvious questions such as their registration and ID details, but once she transferred the $1,600 things started to go wrong.
The former veterinary nurse, who had also done wildlife rescue for the past 15 years, was asked to shell out an additional $1,200 for a 'cabin pressure shot' and insurance.
The vaccine was something she had never heard of despite her experience in the field and that's when the 'red flags' arose.
"I thought what did I do? I had a hunch that I had called some vets that I worked for and asked them about the vaccine and at that point, I Thought I had been scammed I told the scammers I didn't have the money to pay $1200, how about canceling and refunding me and they said that 'they weren't refunding,' she told news.com.au.
"They kept following me and I immediately called the bank and reported it less than 24 hours after the initial transfer and my bank did absolutely nothing.
"I reported it to Scamwatch and called Crimestoppers and the police just discouraged me and said the scammers were probably overseas and there is nothing we can do."
Want to stream your news? Flash lets you stream over 25 news channels in one place. New to Flash? Try 1 month free. Offer ends October 31, 2022 >
"Embarrassed and ashamed"
Ms Trujlllo said not only had she lost $1,600 and had no dog, but she was 'completely embarrassed and ashamed'.
"I felt very depressed. I couldn't visit my mother, I cried for two weeks straight and it wasn't even the money anymore. I had told my father and my sister that we were going to surprise my mum and I had brought some props and a bed to get everything ready," she added.
"Having to tell my family that I had been scammed, they were like how the hell did this happen to you? It just made me feel stupid and I carried all this guilt and shame.
"When I went on social media I was shamed. People wrote 'why did you buy a dog, why didn't you adopt, suck it up' – I've been through so much abuse.
$4.2 million in losses
This experience led her to start her organization called Puppy Scam Awareness Australia, which has seen Australians share heartbreaking stories of losing thousands of dollars to fake puppy advertisements.
"I'm not kidding I thought a few people would join and I have almost 16,000 people now and in five months I've had about 5000 people join and it's just grown and grown and grow on social media," she said.
"I realized a lot of people weren't on social media, so I started my own website."
In Victoria, police were forced to issue a puppy scam warning earlier this month after investigating reports of hundreds of people who lost thousands of dollars to fake puppy advertisements.
French bulldogs, cavoodles, mini teacup puppies, golden retrievers, corgies and dachshunds were the most common breeds Victorian police said were used in the state's widespread puppy scams.
The Australian Competition and Consumer Commission (ACCC) also revealed that losses from pet scams have jumped by more than 1,000% in the past two years.
Losses amounted to just over $375,000 in 2019, but soared to over $4.2 million in 2021.
Banks don't take it seriously
In the two years since Puppy Scam Awareness Australia launched, Ms Trujillo said she has helped thousands of people and has now become a team to investigate and stop scams.
The mother is also keen on educating people and her organization has even teamed up with Facebook owner Meta to flag the fake posts.
"One of the most important projects is the declaration of bank accounts. We discovered that the banks were not taking this seriously at all," she said.
"This week I found a bank account that we reported 46 days ago and since then it has had more victims – that's negligence. We report these fraudulent accounts directly to the banks and if they don't take no action, victims have a chance to hold them accountable and get their money back.
One victim who really stuck with Ms Trujillo was a Northern Territory man who paid crooks $10,000 for a French bulldog.
"I think he managed to get a little bit of it back fighting because he was asked to deposit the money in three different accounts and one of those accounts we had already reported – that's a great example ", she said.
"He was able to go to the ombudsman and call it negligence and they had to pay him back about $2,000."
Victims from all walks of life
Another "horrible" situation was that of a 23-year-old cancer survivor who lost $25,000, meant to pay for his college tuition, after being caught in a scam to buy a French bulldog.
"It was quite devastating for her," Ms Trujlllo added.
"A veteran, he used his payment to buy a border collie, he was confined to a wheelchair and he got ripped off not once but twice and it was over $10,000."
She said the victims ranged from families with an autistic child looking for a therapy dog ​​to someone recovering from brain cancer and even a computer scientist, who lost $7,000.
"My depression was pretty bad and my story is nowhere near as bad as other people's and that's why I feel compelled to help them," she explained.
Gateway to other common scams
The 47-year-old said many people don't realize that puppy scams are actually one of the "big gateways" to romance and bitcoin scams, often run by the same criminal networks that usually see the victims lose hundreds of thousands of dollars.
"A puppy scam may be small fry in the scheme of things, but it's largely related," she added.
She said there is a former bank fraud manager working on her team and they often find half a dozen websites connected to the same criminal group.
Scammers are also stealing Australian business numbers in order to set up websites, she said.
Ranchers are also being targeted by scammers, which has a "devastating" impact, Ms Trujillo added.
She said breeders have usually sent IDs to potential customers, but scammers have figured it out and have now used it to lure victims into creating fake websites where they steal photos from Facebook and Instagram and impersonated them.
"I started to realize that breeders are having a hard time proving who they are and if they are legit because people are paranoid and skeptical and it's ruining their reputation because people have been wrongly branded as scammers," said she revealed.
Ways to avoid getting scammed
The former government compliance officer said thousands of people had reported scams to her organization and had even offered victims puppies "in extreme circumstances".
"To date, we have offered four or five puppies to families. It's a huge community work we're doing now and puppy scams have become very popular and unfortunately over the past two weeks I've seen another spike in scams," she said.
She urged any Aussie who has been caught in a puppy scam to report it to the police as bank accounts and money can be traced.
To avoid scams, she recommends asking to see the pup via a FaceTime or Messenger video call, checking to see if the website is updated regularly as puppies usually sell out quickly, and researching email addresses and numbers. phone number on Google, while their website also has a verified breeder directory.
Originally published as Warning over 'spike' in puppy scams causing Australians $4.2million nightmare