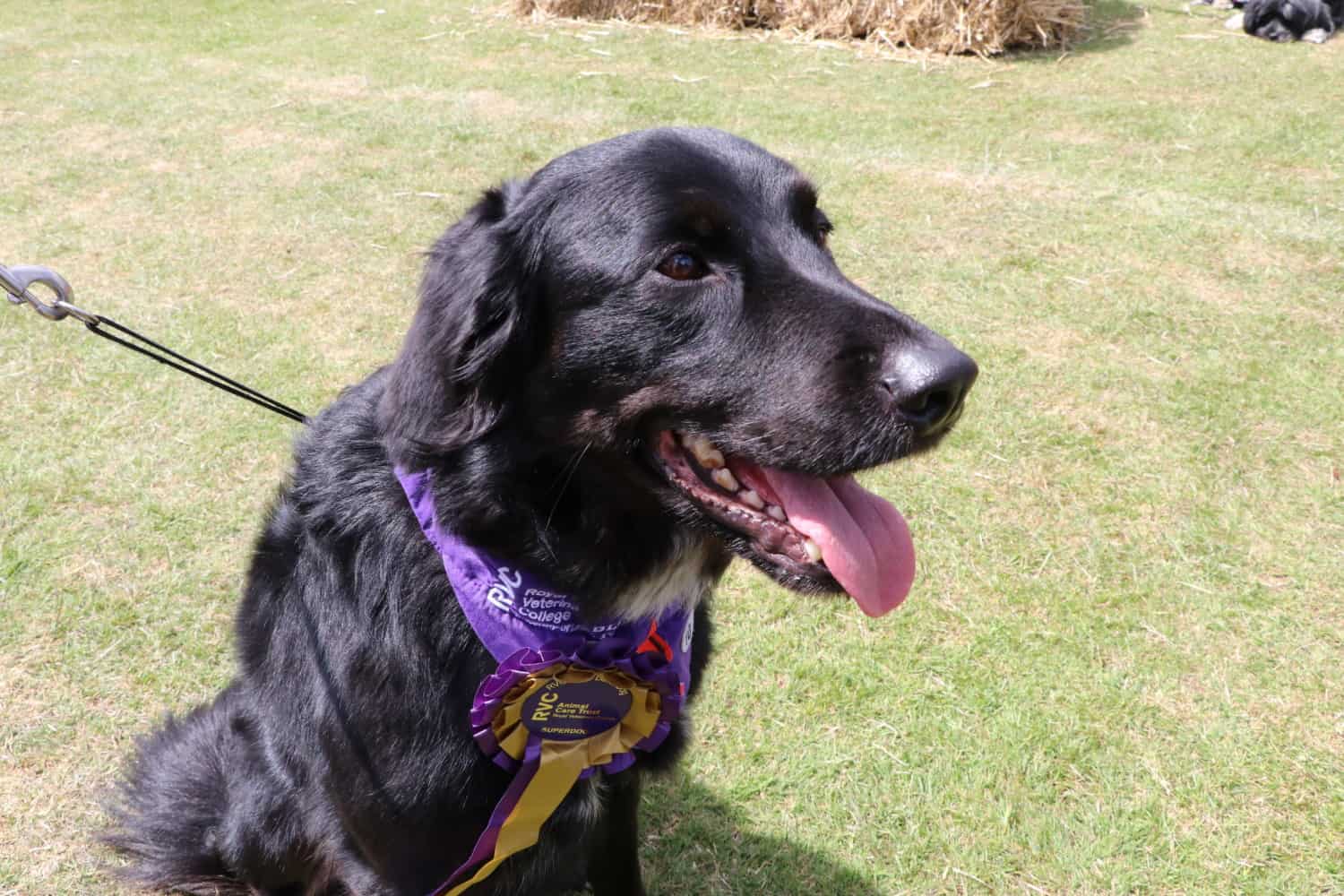 World Blood Donor Day: giving new life to pets
On this World Blood Donor Day (June 14), the Royal Veterinary College (RVC) celebrates the incredible cats and dogs that are part of its vital blood donor program. These pets and their families help save and care for hundreds of animals every year by voluntarily donating their blood to be used in operations and procedures. To mark the occasion, the RVCthe registered charity, the RVC Animal Care Trust, has presented two families of canine and feline blood donors with 'Blood Donor of the Year' awards in recognition of their generous and lifesaving donations.
The Feline Blood Donor of the Year was awarded to Mandie and her cat Weasley, Harry Potter's namesake. Weasley, a five-year-old domestic shorthair, has made ten vital donations since registering in 2018 after Mandie spotted a call for donors while waiting at the RVC's Small Animal Hospital for Weasley's treatment.
mandy, owner and recipient of the Feline Donor of the Year award, said:
"As a nurse myself, I understood the importance of donating and it made perfect sense for me to list it. We are a nation of animal lovers and it is so exciting to be able to help another animal in need.
Mandie is incredibly proud of Weasley's award and is determined to help raise awareness of the importance of pet blood donation, saying:
"Not enough people know about animal donors, especially felines. Weasley is an absolute hero! He is so comfortable donating and watches over Spock, our English pointer who also donates. The team gives him a thorough checkup and blood draw, while giving him lots of attention and attention – he loves it!
The blood transfusion team are so professional and amazing at keeping animals calm. They assess them first and see if their temperament is suitable and they won't be unduly stressed. Weasley was so cool he was definitely an ideal candidate! They were also great with us and dealt with any concerns we had as owners – it's often like parents, where we are more worried than the child!
The canine blood donor was a six-year-old super-collie named Spike who joined the RVC blood transfusion service in April 2019 and has since donated 13 times.
Katie Matthewsdaughter of Spike's owner Pauline, winner of the Canine Donor of the Year award, said:
"Mum saw a call online asking for blood donors, and this breed in particular, so he went for tests to check he was fit and has been going ever since. He loves donating! Even during the lockdown when we couldn't go to the hospital with him, he went to see his favorite nurse without thinking of us who were waiting outside!
"It's such a rewarding service to be a part of and we love hearing from the families whose pets have been saved by Spike's blood. We got a letter at Christmas and it was one of our gifts favorites that year.
One patient, a Springer Spaniel named Harry, required 4 blood transfusions earlier this year for immune-mediated thrombocytopenia. Treatment is ongoing but we are happy to report that he has responded well and that is with a huge thank you to Spike and his precious blood donation.
With over 200 heroic dogs and cats saving lives across the RVC A blood donation program, the pioneering program has helped save hundreds of critically ill animals since its inception in 2005, performing nearly 700 transfusions in the past year. RVC feline blood product transfusions doubled this year to 130. We performed 516 canine blood product transfusions and 50 xenotransfusions (canine blood given to cats on an emergency basis). Blood donations were used for 45 cases requiring eye serum treatments.
Thanks to the generosity of its blood donor families, the service has been able to ensure that the veterinary hospital has the essential blood it needs to support the wide range of complex and life-saving operations and treatments that have place in the hospital. RVC every day.
Charlotte Russo, Head Nurse of Transfusion Medicine at RVCExplain :
"We are always looking for more feline donors – happy, relaxed big cats! We are also always looking for more blood type 'negative' canine donors – so Dobermans, Greyhounds, Flat-Coated Retrievers, German Shepherds and 'Staffies' are often ideal.As always, if anyone has a large, happy, relaxed dog of any breed and meets the requirements, we would welcome them!
The blood donation service is voluntary, with the RVC and Animal Care Trust relying on the goodwill of local pet owners who bring their animals to donate blood. All donors undergo health checks before donating and receive a full blood screening free of charge each year. Donors also receive a special blood donor tag to recognize their support, and everyone receives a special gift upon retirement.
The blood transfusion team is always looking for more dogs and cats to start donating and saving lives through the program. If you think your pet might be a RVC superheroes, please contact the RVC Blood Donor Team for more information: www.rvc.ac.uk/act/blooddonors
Latest articles by Hippocratic Post
(see everything)